Welcome to In Good Hands Massage

located in the beautiful town of Shrewsbury, Shropshire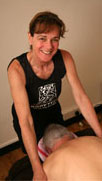 Many people consider massage a pampering experience, but it has proven to have important health benefits. A criticism quite often leveled at conventional medical practice, is that it fails to operate a genuinely preventive service, in that it concerns itself only with the management of ill-health. However, many people now accept the idea that the mind and body are interrelated, and that it is possible to participate more fully in the healing process.
Today, Massage therapy is one of the fastest growing forces in the field of health care.
The human body holds all the traumas, pain, distress, tension and emotional crisis within its muscular structure. Every thought and feeling we have is etched in our body, the map of our experiences.
Tessa is a fully trained professional who can be found at her health and well being centre – In Good Hands on the Frankwell roundabout in Shrewsbury.
She also runs a mobile service to those who cannot or prefer not to leave their homes.
She is experienced in all aspects of massage, including problems with back, neck and shoulders, as well as massage for the elderly and physically and mentally challenged.
Special Offers

You're definitely in goods hands with Tessa! Great technique that really gets to all the knots and sorts them out. Can highly recommend.

19/06/2013